Meet Zone Mouthguard. Our patented no-boil technology means zero pain, custom fit mouth protection for a fraction of the cost, and increased athletic performance. Get your Zone Mouthguard today.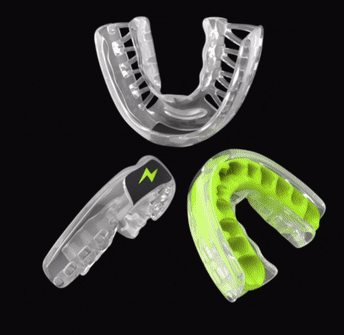 Our patented, zero-pain technology makes the old-school method of boiling plastic a thing of the past.
Ditch the dentist office, and get a mouthguard that's custom fitted to your mouth for a fraction of the price.
The relationship between aligned jaw posture and increased muscular strength for athletes is real.
Boiling a plastic mouthguard to 200°F and putting it directly in your mouth sounds crazy, right? That's because it is. Our patented technology gives you a perfect fit from anywhere, without the stove and the pain of boiling.
Start by mixing our two proprietary materials together until you form a uniform consistency.
Next, use your hand like a rolling pin to flatten the material into a tube shape about 3 inches long.
Firmly pack the tube-like material into the empty mouthguard chamber.
Gently but completely bite down on the mouthguard for 60 seconds. That's it. Just like the pros do it.
Custom-Fit Mouth Protection
Dentist fit.
No office visit.
In the past, athletes had to schedule multiple visits to the dentist office and spend hundreds of dollars for custom fitted mouth protection. We figured out a way to keep you on the field and out of the dentist chair while offering professional-level collision and concussion protection at a fraction of the price.
Science-Backed Performance
Aligned jaw for peak performance.
From better balance and flexibility to more air intake, scientific studies have proven there's a real relationship between increased athletic performance and MORA (Mandibular Orthopedic Repositioning Appliance, A.K.A. Zone Mouthguard). We're bringing that scientific advantage to athletes everywhere.
Dr. David Frey is Beverly Hills top cosmetic dentist, the inventor and founder of Zone Mouthguard, and a public influencer advocating for MORA science and technology. You might have seen his work featured on TLC™, NBC™ and in People™ Magazine.
As seen at Dick's
Sporting Goods.
After finding success at retail stores, we decided to bring our technology to the masses. Your
support was unprecedented, and we wanted to take a minute to show off.
"This product was easy to make, and it fits really snug. It took me less than 5 minutes to make, and I was able to make it right on the field. I love it! I'm a soccer player, and I feel more flexible when I play with it, too.
"Both of our boys play sports, and we have a lot of $$$ invested in their teeth. This was easy to use, especially after bad results with the boil and form mouthguards we used in the past. When you consider the custom fit and the teeth it protects, i's totally worth every penny!"
"I can't believe it took this long for a company to invent a better mouthguard for athletes. It's extremely easy to mold, and it fits my 14 year old great. She's worn it for 3 weeks of practice now and says it's super comfortable in her mouth."
The best mouthguard
on the market.
Get a custom fit and increase your performance without the boiling and high price tag.